~ Exposed brick walls, full-sized kitchens, rooftop terrace—and a picnic breakfast on your doorstep ~
The (dream) home away from home
If you plan to stay in town for a while or bunk with a big group—or both—this is the place for you. Every one of The Restoration on King's 16 suites features fully equipped kitchens, private washers and dryers, and roomy living areas with extra-high, exposed-brick walls.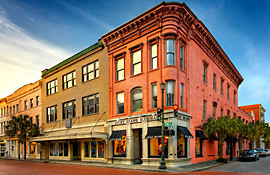 Quality service is par for the course. Ask to have your groceries delivered, take advantage of the free wine-and-cheese receptions, and let breakfast come to you: The staff will deliver gourmet continental goodies each morning, wrapped in a picnic basket.
Location
The Restoration on King sits on the bustling corner of its namesake street and Wentworth Street, meaning you'll be right near downtown Charleston's Antique District and all manner of shops, galleries, and restaurants.
75 Wentworth Street, Charleston SC 29401
The Restoration on King
http://www.restorationonking.com/
restorationonking.com