~ Boulevard shopping & river views ~
Perfectly-placed Florida boutique
On palm-lined, porticoed Las Olas Boulevard you're likely to wander through an outdoor art exhibition on your way to boutique shopping, or bump into locals on their way to a Mad Hatter's Tea Party in an old mansion - and Riverside Hotel is the boulevard's only hotel. Just behind the property, Fort Lauderdale's New River stretches down to the Broward Center for the Performing Arts.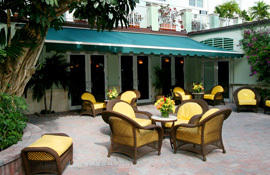 Boulevard people-watching and after-supper brandies are both on offer at the Golden Lyon Pub. The service here, and all through the hotel, is warm and friendly: the same family has run the hotel for 75 years.
Location
The Riverside Hotel is on Las Olas Boulevard, 5 minutes from the white sands of Fort Lauderdale Beach. The Fort Lauderdale/Hollywood International Airport, Greater Fort Lauderdale & Broward County Convention Center, and Port Everglades are 10 minutes away.
620 Las Olas Boulevard, Fort Lauderdale FL 33301
Riverside Hotel
http://www.riversidehotel.com/
riversidehotel.com