In their words:
"A premier all-season resort snuggled in the heart of the Berkshires"
- Cranwell Resort, Spa, and Golf Club
What it's like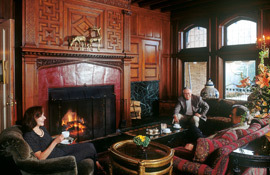 The Great Hall is full of wood paneling, cushy English sofas & wall-tapestries form France. Guestrooms are in the Mansion or in more recent buildings on the property: the newest, Olmsted Manor and Founders are linked to the Spa by a heated, glass-enclosed walkway.
Independent Spirit
Mansion style, ultra-modern spa
Small touches
Summertime brings outdoor entertainment: acts like the Capitol Steps perform July through early September.
Eat and drink
Wyndhurst Restaurant and The Music Room share a menu ranging from the inventive - pheasant spring rolls - to the traditional, with Berkshire-grown ingredients wherever possible. The wine list is recognized by Wine Spectator.
Sloane's Tavern has a casual, pub feel, and the Spa Café serves a light lunch menu - spa chocolate cake! - in a pretty, modern room, with lush carpeting and walls adorned with the works of local artists.
Cranwell Resort, Spa and Golf Club dining
And more
The Spa at Cranwell is a world unto itself, and has top-of-the-line treatments Decléor and Carita. Look for a 60-foot indoor pool, body & beauty treatments, and fitness classes from Gentle Yoga to Boot Camp.
Cranwell Resort, Spa, and Golf club Spa
Awards
Best in the world: Mainland U.S. Resorts, Top 150
Condé Nast Traveler Readers' Choice Awards 2011
The Best of New England: Top Golf and Top Lodging
Boston Magazine's New England, 2010
Wine Spectator Award of Excellence
Wine Spectator, 2010
Press
"They've thought of everything"
BOSTONMAGAZINE.com, 2011