Independent Hoteliers Find New Solutions in Tough Times
50 more hotels turn to Stash Rewards for technology, marketing scale, and true independence
December 1, 2011
It's a tough time for independent hotels. The anemic recovery may just have stalled. Lenders won't return phone calls. Competing for frequent travelers has never been tougher, as big brands creep into the independent's backyard with new mass-produced boutiques like Aloft and Indigo. It's enough to keep an independent hotelier up at night. And there may be reason for that insomnia. Hotel broker Atlas Hospitality estimates independents represent 71% of the California hotels in foreclosure.
So what's an independent hotelier to do? Throw in the towel? A few have, joining the "boutique collections" of big chains. Yet far more are sticking it out. Many of those stalwarts report that new solutions have emerged to help independents fill rooms and compete with the chains. For Lisa Koester, director of sales and marketing at Napa River Inn, one such solution is Stash Hotel Rewards. "Stash did something that we've all been talking about, trying to figure out for years. They connected independent hotels with a points program. It's genius." See the press release in PDF form.
The complete list of recently-added Stash partners includes: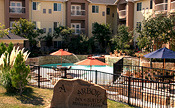 Arbor Inn and Suites
Lubbock, TX
The inn's spacious suites are a home-away-from-home in Lubbock - if your home has someone making you biscuits and gravy and Belgian waffles every morning, a waterfall in the pool, a gym, and Texas-friendly concierge service, complete with up-to-the-second Red Raiders scores at the ready.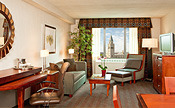 Washington, DC
Fresh off a multi-million dollar renovation, Capitol Hill Suites offers spacious DC living 2 blocks from the Capitol Dome and walking distance to the National Mall, the Library of Congress, and everyone who's anyone in the city. The pet-friendly suites come with kitchenettes and free wireless.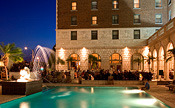 St. Louis, MO
Where Eloise would have lived if she were from St. Louis, The Chase Park Plaza is a classic city hotel overlooking Forest Park. There's a pool fit for an emperor, a 5-screen movie theatre with a classic cinema bar, and 5 restaurants.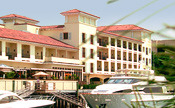 Delamar Greenwich Harbor
Delamar, CT
The Delamar Greenwich Harbor overlooks yachts coming and going-and there's 500 ft. of private dock if you arrived in one. The rooms are old-world elegant, with hand-embroidered linens on the beds. The fireplace lounge has chestnut brown armchairs to sink into, the spa's rooms are soothing greens and golds, and L'Escale serves French Mediterranean food, from oysters to Sauternes.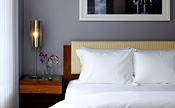 Duane Street Hotel
New York, NY
The intimate setting of this metro-chic hotel fosters a relaxed, casual atmosphere in one of Manhattan's hottest neighborhoods. You can borrow iPads and Scholastic kids books at the front desk to use in the loft-like guestrooms, or at Mehtaphor Restaurant's wired, communal table.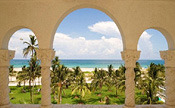 Edgewater South Beach
Miami Beach, FL
Spacious suites right across from South Beach, with fresh, modern design and kitchenettes: a stay at the Edgewater is like having your own place on Ocean Drive - except with someone else making your beds. The rooftop lounge catches the ocean breeze and has a great view of the beach.
Gateway Canyons Resort
Gateway, CO
Set in a high-desert red rock canyon, the resort has all-natural spa treatments, buffalo meat in the Paradox Grille and fine-dining at Entrada Restaurant. The experienced staff at the Adventure Center will get you out fly fishing, rafting, horseback riding or hiking in the unbelievably beautiful Western Colorado wilderness.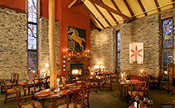 Fogelsville, PA
Both a working farm and a luxury country inn, Glasbern's buildings were originally barns, carriage houses and stables. You'll find barn door shutters and loft ladders, steam showers and a day spa. The heart of the inn is the Great Room: soaring windows and a cathedral ceiling set the stage for the farm-to-table meals.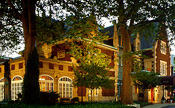 Glidden House
Cleveland, OH
Glidden House is the no. 1-rated Cleveland hotel on TripAdvisor. Why? The beauty of the 1910 manor house, fresh squeezed orange juice, pastries, and eggs in the mansion's original parlor, fine-dining in the carriage house, and a serene campus setting strolling distance from The Cleveland Institutes of Music and Art.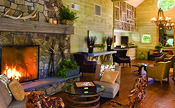 Hidden Pond
Kennebunkport, ME
Hidden Pond's spa is built into the treetops 8 feet above the forest floor, and this luxury Kennebunkport inn is full of other happy surprises: a tucked-away organic garden (guests can stroll through and sample the produce), a James Beard Award-winning chef and a back porch bar.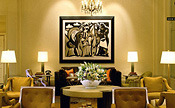 Portland, OR
An 8-foot, circular bed in the Marlene Dietrich suite is just the start of the deLuxe's Hollywood-style glamor. Gracie's restaurant serves local food and wine, and the Driftwood Room is one of Portland's favorite bars. Hotel deLuxe is never overlooked by the Academy: Condé Nast's readers voted it "Best in the World: Top 200" for 2011.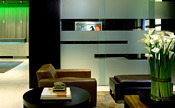 Portland, OR
TripAdvisor calls this one of America's 10 sexiest hotels: rich, dramatic décor (think wine-colored velvet curtains) is part of the reason. Pulitzer-winner (and local hero) David Hume Kennerly's photographs of '60s icons fill the walls, and the Oregon Symphony and the Portland Art Museum are walking distance.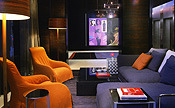 Seattle, WA
A living gallery of Seattle's best contemporary art, Hotel Max was voted "Best in the World: Top 200" for 2011 by Condé Nast readers. There are huge photos of local rock heroes, Red Fin delivers sushi to your chic red-and-charcoal colored room, and if your soul needs soothing, there's a Spiritual Menu next to your bed.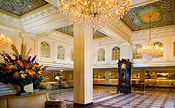 New Orleans, LA
Hotel Monteleone is part of French Quarter history: Tennesee Williams and William Faulkner took their bourbon at the famous Carousel Bar (it really spins). White columns and chandeliers combine with refurbished rooms and sparkly modern bathrooms for a classic and comfortable New Orleans visit.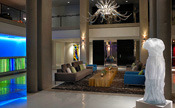 Tacoma, WA
Brilliantly-colored glass Viking boats hang in mid-air in the atrium: this hotel has an extraordinarily beautiful, museum-worthy glass art collection. It also has a day spa, micro-brew battered fish in the restaurant, and a 2011 Condé Nast Gold List award.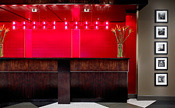 Nashville, TN
From live music at the Pink Slip Lounge to a rubber duckie for your bath or a lava lamp for your bedside table, Hotel Preston captures the fun, easygoing spirit of Nashville. Photos of Nashville's music legends hang on the walls, and the concierge can direct you to The Bluebird Café and other Music City legends.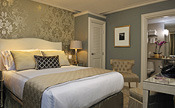 The Hotel Veritas
Cambridge, MA
Thought went into every inch of this new Harvard Square boutique, designed by the architect Mark Boyes-Watson. In The Simple Truth Lounge cozy velvet couches encircle a Belgian marble fireplace; you can order locally made cheese and charcuterie, and liquor hand-distilled in the Berkshires.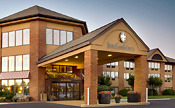 Inn at Saint Mary's Hotel & Suites
South Bend, IN
In town to cheer on the Fightin' Irish? The Inn at Saint Mary's is right next to the University of Notre Dame. The warm, friendly staff set you up for the day with a hot buffet breakfast, and you can unwind in the spacious fitness room with a sauna and Jacuzzi.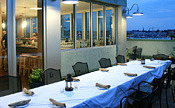 Baltimore, MD
The design is both green and beautiful: the rich, saturated colors on the walls come from crushed limestone, and the heating is geothermal. The rooftop bar has organic cocktails and harbor views, and grilled, market-fresh fish is a specialty at The Black Olive Restaurant - long a neighborhood favorite.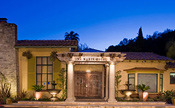 Inn Marin
Novato, CA
A North Bay home base for exploring the best of the region, Inn Marin is 30 minutes from both the historic Sonoma Plaza and the Golden Gate Bridge. Grab a picnic at the Marin French Cheese factory and head to a winery, or spend the day exploring San Francisco and come home to live jazz in the Rickey's Restaurant or a little down time by the pool.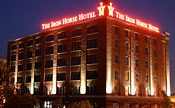 The Iron Horse Hotel
Milwaukee, WI
A hotel so cool it has motorcycle rentals and special places to hang your heavy leathers, The Iron Horse Hotel mops up awards for its luxury loft design, upscale "Rustic American" food at Smyth and the great Milwaukee bar experience at "Branded" (we're way beyond Laverne and Shirley here).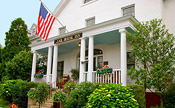 Jailhouse Inn
Newport, RI
Iron bars over the front desk and framed prison rules let you know you're inside Newport's historic 1772 Federal-style jailhouse. Everything else is present day luxury: rich polished wood floors, Persian carpets. The White Horse Tavern - New England's oldest tavern and now a 5-star restaurant, is across the street.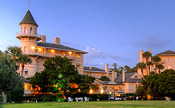 Jekyll Island, GA
Turrets, dinner-dances and a private beach pavilion: Jekyll Island Club Hotel's elegance is part of its legacy: it was once the playground of JP Morgan and the Vanderbilts. Their private summer cottages are now beautifully redesigned retreats, and the wild Georgia seacoast has the same soul-restoring beauty it always had.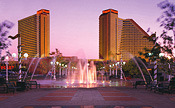 John Ascuaga's Nugget Casino Resort
Reno, NV
This family-run resort has everything you want for a Reno getaway: Texas Hold 'Em and a wedding chapel, an atrium pool with huge windows opening onto views of the Sierra Nevadas, jasmine scrubs in the spa, and restaurants ranging from an oyster bar to a classic steakhouse.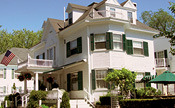 The Kennebunkport Inn
Kennebunkport, ME
A federal-style mansion right in Dock Square, The Kennebunkport Inn has a classic front porch where you can watch the town go by. There's a piano bar that draws a crowd in the evenings, you can get Maine river stone massages in your room, and the menu at One Dock offers locally-sourced lobster fettucini, crab cakes, and roast duck.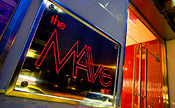 The MAve
New York, NY
A boutique with personality in the Flatiron District, The MAve's room décor is splashy and fun: you might find a zebra print rug, or candy-apple red headboards. Stay in for a massage and room service from Park Avenue Bistro, or walk to Brasserie Les Halles, or 230 Fifth's rooftop bar for Gotham City people watching at its best.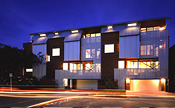 Houston, TX
In Houston's lively Montrose neighborhood near boutiques, restaurants, and art (don't miss the Rothko Chapel), Modern B&B has personality and warmth in a very unstuffy townhouse setting. Evening wine in the living room often turns into a salon-style discussion.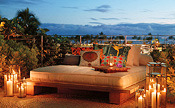 The Modern Honolulu
Honolulu, HI
Pack your bikini and your little black dress: The Modern Honolulu is a chic city hotel, Waikiki-style. The Sunset Pool is lantern-lit and lined with Yves Klein blue glass tiles, and hammocks are slung between palms over white sand. At Morimoto Waikiki, Iron Chef Masaharu Morimoto does magical things with Wagyu beef and sushi.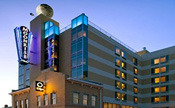 Moonrise Hotel
St. Louis, MO
The Moonrise Hotel is in the Loop District: that means in the thick of the fun. The Pageant nightclub, Pin-Up Bowl, and Blueberry Hill are all walking distance. Or just stay in: between the rooftop terrace with STL skyline views, the great food and funky, space-race décor in Eclipse, and the plush beds and skinny mirrors in the arty, fun rooms, it's one giant leap for hotels.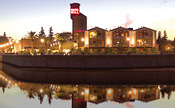 Napa River Inn
Napa, CA
The Napa River Inn is housed in an 19th c. mill on the Napa River. Breakfast is delivered from Sweetie Pies bakery, and the innkeepers break out local wines at the evening tastings. The concierge will help you plan your winery tour, and the spa can make you beautiful for a fancy dinner, or lull you into complete relaxation.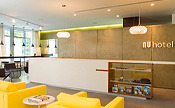 Brooklyn, NY
BK's new kid on the block has playful touches like a chalkboard or a hammock in your room. Paintings by Basquiat and stenciled quotes by famous Brooklynites celebrate the NU's quintessential Brooklyn address: it's in the heart of downtown, surrounded by charismatic shops and nightlife.
Old Fort Inn & Resort
Kennebunkport, ME
Set on 15 acres near the ocean, the Old Fort Inn is an 1800's stable and carriage house turned resort, with four-poster beds, a turn-of-the-century bar and a Club House full of overstuffed chairs, books and games.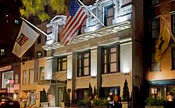 Park South Hotel
New York, NY
A restored 1906 building in a plum Manhattan location between Gramercy Park and Murray Hill, the Park South Hotel has a lending library in its European-style lobby. Next door, in an 18th c. brownstone, guests mix with New Yorkers at the alabaster bar of the Black Duck restaurant.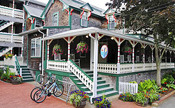 Pequot Hotel
Oak Bluffs, MA
This vintage Martha's Vineyard inn has white and blue gabled bedrooms and rocking chairs on the wide front porch - just right for lemonade and home-baked cookies in the afternoon. The shore is one block away, and the inn kits you out with beach towels, chairs, toys for the kids and wineglasses for grown-ups.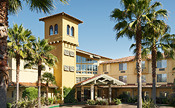 Campbell, CA
In the heart of Silicon Valley, PruneYard Plaza Hotel has everything you need to be relaxed and happy on the road: a fitness room and an outdoor running track, rooms with fireplaces and spa tubs, and fresh California fruit at breakfast. The Pacific Catch Fresh Fish Grill, Trader Joe's, and Barnes & Noble are a short stroll away.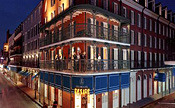 Royal Sonesta Hotel New Orleans
New Orleans, LA
The wrought iron balconies and neon "Desire" sign over Desire Bistro make this one of the most photographed corners in the French Quarter. Inside this Bourbon Street classic, Grammy-winning trumpeter Irvin Mayfield presides over his Jazz Playhouse, and you'll find art by Andy Warhol and Frank Stella on the walls.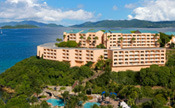 St. Thomas, VI
Sugar Bay Resort sits atop a green hill and looks over the Caribbean Sea and neighboring islands. Swim in 3 pools with grottos and waterfalls, have a cane sugar scrub in the spa, snorkel, island-hop, or indulge in the best activity of all: an afternoon in a lounger on the white sand beach.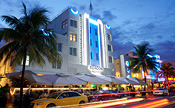 Miami Beach, FL
Beach-bright classic Art Deco architecture was enough for Scorsese to give The Beacon a star turn in Scarface. Inside, the lobby pops with Creamsicle colors , and The Place Restaurant offers some of the best people-watching in SoBe.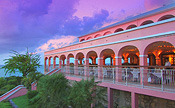 St. Croix, VI
The same St. Croix family has owned The Buccaneer for 50 years, and it shows in the details: fresh flowers in your room, and beach toys for your children in the sand. The setting is spectacular: there are 3 private white sand beaches, and the Terrace looks out onto the sea, the sunset, and the lights of Christiansted at night.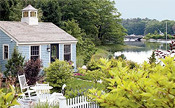 The Cottages at Cabot Cove
Kennebunkport, ME
Each of these waterfront cottages was designed by a different decorator, and each comes with a basket of goodies on your doorstep every morning, and unlimited use of kayaks and rowboats. You can take in the Cove from an Adirondack chair, or walk to Kennebunkport's shops and beaches.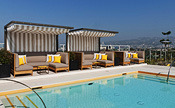 The Hotel Wilshire
Los Angeles, CA
The Hotel Wilshire is the optimal spot on the Miracle Mile for shopping at The Grove, the Beverly Center, or on Melrose. Next stop: the rooftop pool deck for restorative cocktails with LA cityscape views, or the Roof on Wilshire restaurant for avant-garde comfort food: Absinthe Steamed Mussels, or a perfect filet of beef.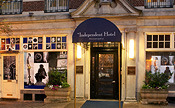 The Independent
Philadelphia, PA
Each room in this Georgian Revival landmark is unique - you may find French windows, a catheral ceiling, exposed brick or a fireplace. The intimate, 24-room boutique is a short walk from more than a dozen theaters in Philly's performing arts district.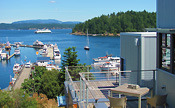 Friday Harbor, WA
It's steps from the Anacortes ferry - and the sea-plane is even more fun. The Island Inn at 123 West is a San Juan Islands haven with whale-watching tours, cooking retreats, coffee roasted down the road, zen-peaceful rooms, and a town full of fun shops (one sells only things made from lavender grown on a nearby farm).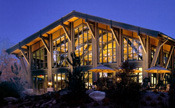 Hawley, PA
Named one of 2011's "Top 10 Destination Spas in the World" by Travel+Leisure, The Lodge at Woodloch has soaking pools on the edge of the Pennsylvania woods, and a nearby lake for sunset canoeing. You can take a class in wine-tasting, indulge in the world-class spa, and then repair to Tree Restaurant for roasted lobster with basil risotto.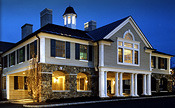 The Olde Mill Inn
Basking Ridge, NJ
Near Fortune 500 headquarters, golf and shopping, The Olde Mill Inn has a club-like elegance: wood paneling, overstuffed sofas in front of a fire, curving stairways, white columns and a grand piano. The Coppertop Bar is a favorite with locals for pub fare like steak frites and grilled pizza.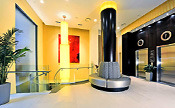 New York, NY
Prints from the Condé Nast archives dot the walls (say hello to Liza!) and the terrace bar has a retractable glass roof and a view of the Empire State Building to make you swoon. The rooms are chic and plush, and The Strand American Bistro's Harlem-born chef is a rising star on the city's fine-dining scene.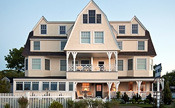 The Tides Beach Club
Kennebunkport, ME
On 3 miles of white, sandy beach, The Tides Beach Club is a turn-of-the-century Victorian with fresh, pretty rooms, local oysters and champagne in the bar, a library stuffed with good reads, cushy rockers on the veranda looking out onto the sea, and beach cruisers to take in the area the way it should be experienced: slowly.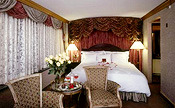 University Hotel Minneapolis
Minneapolis, MN
The spacious rooms are walking distance to Golden Gopher football on the University of Minnesota Campus. Even more convenient: there's a Starbucks coffee shop and two restaurants on site, and a free shuttle to anything within five miles (the Metrodome, the Minneaplis Institute of Arts, and Skyways all fall within range).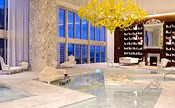 Viceroy Miami
Miami, FL
A sexy-chic, anything-but-understated highrise, the Viceroy is full of cartoon colors and eye-popping design: look for the floating library under the limoncello-colored chandelier in the Phlippe Starck-designed spa. There's a glittering nightclub on the roof, and the residences inside are cool, private retreats.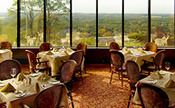 Woodcliff Hotel and Spa
Fairport, NY
Near the Rochester area's business venues, but peacefully situated at the top of a hill surrounded by woods, the Woodcliff Hotel and Spa is a haven for road warriors. There's a 9-hole golf course, a full service spa, and a Wine Spectator Award-winning restaurant.
Like to see more? Explore hotels partnering with Stash Hotel Rewards here.