~ Style, steaks & a prize-winning martini ~
A colorful urban retreat with an independent streak
Hotel 43 is smart and lively, boutiquey in the best sense, and perfect for business. Chandlers Steakhouse is private enough to entertain clients, but if you want to let it all go at the end of the day, it's just plain fun.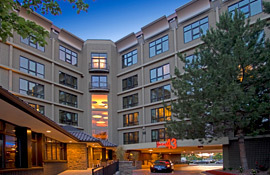 The staff can tell you where to get chorizo and a dose of Basque history in town, or a craft-distilled gin and tonic. Custom-made chocolates at check-in and a CD of the hotel's favorite songs in your room let you know the hotel's put thought into your well-being.
Location
Hotel 43 is in the center of downtown Boise's financial district. The Boise Museum of Art, the Idaho Steelheads hockey arena, and the Greenbelt along the Boise River are nearby. A free shuttle takes you to and from the airport, 15 minutes away.
981 Grove Street, Boise ID 83702
Hotel 43
http://www.hotel43.com/
hotel43.com