~ Historic location, four-poster beds, and breakfast on your doorstep ~
Sweet Home Savannah
Across from the shady oaks of an historic Savannah square – the Commons House of Assembly met here in 1770 – you'll find the lantern-lit entrance to the Planters Inn. The Inn stands on the original site of the parsonage of John Wesley - the founder of Methodism. Inside, pretty, period-inspired furnishing – think four-posters and fresh flowers – is met with the kind of attention to guests only possible in an intimate, 60-room inn.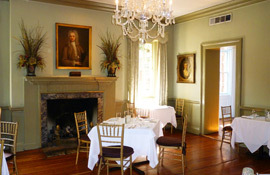 The Olde Pink House restaurant next door is Savannah's only 18th century mansion. Dine on Southern, country-inspired food in formal rooms adorned with candelabras and 200 year-old portraits – or repair below to the Planters Tavern where polished wood and a charismatic pianist set the mood.
Location
On Reynolds Square and surrounded by Savannah's Historic Landmark District, The Planters Inn is near Wright Square, the Forsyth Park Fountain, the Savannah College of Art and Design, and the city's famous River Street.
29 Abercorn Street, Savannah GA 31401
Planters Inn
http://www.plantersinnsavannah.com/
plantersinnsavannah.com/