Stash Hotel Rewards Expands to 100 Hotels
PALO ALTO, California – November 10, 2010
We're celebrating. Today we announced that 100 hotels now participate in Stash. That means we've grown 54% in our first 6 months of life. And you'll soon be able to earn Stash points at one-of-a-kind hotels in 74 cities.
From the 5 jewel-box pretty rooms at Atlanta's Stonehurst Place, to Villa Florence – a little bit of la dolce vita in San Francisco's Union Square – these hotels are like fine character actors. Take a look – we think you'll agree that they steal the show. See the press release in PDF form.
Our new partner hotels: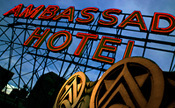 Pink ladies and neon lights
Ambassador Hotel, Milwaukee WI
Put on your fedora, hop into your Packard, and head to the Ambassador Hotel, newly restored to its 1928 glory – look for terrazzo floors and polished nickel light fixtures. 21st century comforts? Of course. You'll find cloud-like beds, and under-floor heating beneath the restaurant bar. Don't miss the Nostalgic Cocktail Menu.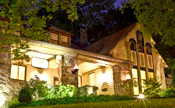 Warhols on the walls
Stonehurst Place, Atlanta GA
The fine bones of Stonehurst Place's 100-year old walls now house jewel-box pretty rooms with puffy, quilted satin beds and design treats like Sarfatti lamps and an Eames lounger. The walls are filled with art by Candida Hoefer, Andy Warhol, Nan Goldin, and others from the owner's sophisticated collection.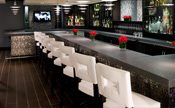 Loft-living on West Peachtree
Artmore Hotel, Atlanta GA
In the mood for urban funk, sans attitude? Check into the design forward and über-friendly Artmore Hotel. The Studio Lounge is cool charcoal and cream, and French doors open from the lobby onto a hidden courtyard. Walk out onto West Peachtree Street – the heart of Atlanta's Cultural Arts District, with theatres and galleries in all directions.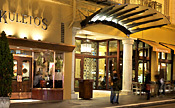 Prosecco and polished marble
Villa Florence, San Francisco CA
If you're lucky enough to get a spot at the bar in Kuleto's, the restaurant at Villa Florence, order an organic cocktail, or settle into a booth on the black and white marble-tiled floor for a six-course Italian meal – the original slow food. The chatty wine bar in the lobby has a deep list of Italian wines from Prosecco to Sardinian reds. And you're half a block from the energy of San Francisco's Union Square.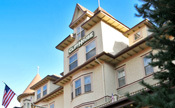 Party like it's 1929
The Cliff House at Pike's Peak, Manitou CO
A favorite of the '30s glamour set, The Cliff House at Pike's Peak entertained luminaries like J. Paul Getty and Clark Gable with concerts on the lawn and a pleasantly strict regime of mineral water cures from the nearby natural springs. Now anchored by a fine-dining restaurant, the modern-day Cliff House is both drop-dead elegant and Colorado casual.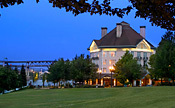 Picture perfect riverside inn
RiverPlace, Portland OR
The Willamette River threads alongside this pretty inn, playing peekaboo through the lounge windows and adding to the utterly relaxing, unpretentious but in-the-know Northwest vibe. Three Degrees restaurant nods to Portland's food-savvy culture with house-made charcuterie, and gets comfort exactly right: shirtsleeved bartenders helm the mirror-backed bar, chickens turn over the grill, and you can sink into classic, horseshoe-shaped booths for the whole evening.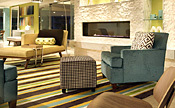 LA is my lady
The Belamar, Manhattan Beach CA
Champagne flutes full of blue candy-floss, oversized black and white prints of Chihuahuas gazing soulfully into the room, shag rugs begging for bare feet – the Belamar is quintessential L.A. cool. Don't miss the Caillebot chocolate fondue in the Second Story restaurant - or the candlelit altar to Humphrey Bogart and Ingrid Bergman. Walk outside and you're a mile from beach and boardwalk fun.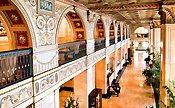 Scene-stealing decor – and a celebrity sandwich (really)
The Brown Hotel, Louisville KY
Soaring, coffered ceilings, Palladian-style windows, Botticino marble floors ... The Brown Hotel is nothing if not a performer. And it's home to the "Hot Brown" sandwich, a dish with a resume any actor would envy: starring roles on the Food Network, The Today Show, and the PBS documentary "Sandwiches That You Will Like'' (who knew?)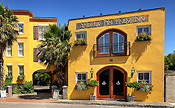 Rooftop views of historic Charleston
Andrew Pinckney Inn, Charleston SC
Tucked among historic Charleston's pastel-colored homes and shops, you'll find the Andrew Pinckney Inn's warm yellow façade. Inside, every room has a different twist on West Indies décor. Wake up to breakfast served on the rooftop terrace, with a sweeping vista of historic steeples and the harbor beyond.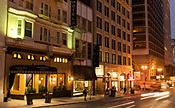 San Francisco character since 1915
Larkspur Hotel Union Square, San Francisco CA
Play a game of chess by the fire in the wood-paneled lobby, or warm up with a cabernet on the leather banquettes of Bar 1915 (named to honor the building's early 1900's history.) The Larkspur Hotel Union Square is warm and characterful. And when you can bear to extricate yourself from your fluffy, gold duvet, you're minutes away from cable cars, Barney's, and famous pancakes at Sear's Fine Foods.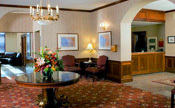 Neoclassic armory's new secret weapons: a spa, & killer cocktails
The Portland Regency Hotel & Spa, Portland ME
Built in 1895 as an armory for Maine's National Guard, The Portland Regency Hotel & Spa is an Old Port favorite. Blame it on the notorious cocktail menu in the Armory Lounge, or the lobster stew at Twenty Milk Street. Original architectural elements are still intact – each alcove and window is unique.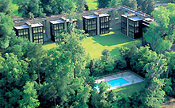 Alligators, and award-winning architecture
The Inn at Middleton Place, Charleston SC
The award-winning, postmodern architecture of the Inn at Middleton Place resonates beautifully with the 18th century plantation right next door. Cypress paneling, wood-burning fireplaces, and garden tubs lend a Zen-like calm. To perk up, take a kayak tour of a primeval swamp filled with alligators and otters.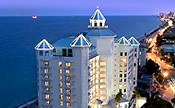 Private stretch of sand in Fort Lauderdale
Pelican Grand Beach Resort, Fort Lauderdale FL
A beachfront hotel done right. With Caribbean colors in the room and a red and white striped ice cream parlor, the Pelican Grand Beach Resort give you that swept-away feeling you want on a seaside vacation.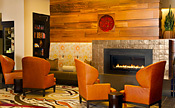 Urban-groovy boutique just off San Francisco's Union Square
Hotel Abri, San Francisco CA
Both funky and cushy – the high-backed orange leather chairs in front of the fireplace are very mod, yes, but also deeply comfortable – Hotel Abri puts you front and center for San Francisco fun. Theatre at ACT is down the street, and turn down any of the lanes surrounding Union Square and you can't miss world class shopping from boutiques to Barneys. Head home to the Abri's restaurant, Puccini & Pinetti, for pasta, wine, and a friendly, chatty vibe.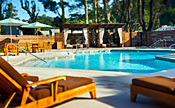 Marin digs in a bird sanctuary
Larkspur Mill Valley
Super-friendly service and natural surroundings – The Larkspur Hotel Mill Valley is in the middle of a bird sanctuary. Early risers can walk along the water and over a bridge to the cultishly popular Dipsea Café for salmon and eggs. At night, go for Italian and check out the olive press at Frantoio Ristorante, the hotel's on-site eatery. Hike Mount Tamalpais, get happily lost in Muir Woods, or go urban – San Francisco is ten minutes down the road.
Happy kids – and sanity breaks for mommy and daddy
Caribe Royale, Orlando FL
The kids can wind down after a day at Walt Disney World® on the 75-foot water slide. You get to cool off with pina coladas in the cabanas. For even more grown up fun, try Caribe Royale's AAA Four-Diamond restaurant, the Venetian Room.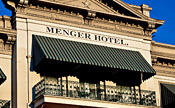 Oscar Wilde slept here
Menger Hotel, San Antonio TX
So did Sarah Bernhardt and Mae West – though perhaps not all at the same time. It's easy to imagine them swanning through the Menger Hotel's original 1859 lobby - a three-story, Victorian marvel, filled with period furniture and paintings. San Antonio's River Walk is a block away, and the Alamo is literally next door.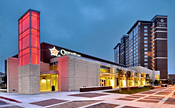 Texas soul, city slick tech
Overton Hotel and Conference Center, Lubbock TX
Red Raiders fans, sit up: the Overton Hotel and Conference Center is a short stroll from Texas Tech. Take for granted the top-notch business services, then get comfortable with soft leather chairs and Texas artwork that nods to the South Plains locale. Not to be missed: the Slow Smoked Baby Back Ribs at Restaurant 2322.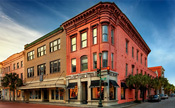 Like a perfectly-decorated apartment of your own on the best street in Charleston …
The Restoration on King, Charleston SC
Exposed brick walls, tricked out kitchens, and breakfast on your doorstep: if you plan to stay in town for a while, The Restoration on King is the place for you. Charleston's Antique district and all manner of shops, galleries and restaurants are nearby.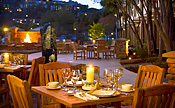 From ferries to wine country – very Bay Area
The Lodge at Tiburon
Hop a ferry to San Francisco, or to Angel Island for the day. Wine country, and food heaven – Healdsburg, Yountville, take your pick – are a short drive north. At The Lodge at Tiburon, wood patios, stone walls and open fire pits conspire to create that relaxed NorCal vibe – and the new Tiburon Grill can do everything from aioli fries and beer to tuna tartare and a Marin dry Riesling.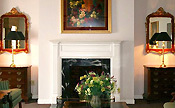 Relive the colonial days – but spend nights on a great mattress
Williamsburg Hospitality House, Williamsburg VA
Check into Williamsburg Hospitality House for the fireplace, the soft armchairs, and crab cakes to die for. Colonial Williamsburg – with fifes, drums, and period costumes – is just down the street.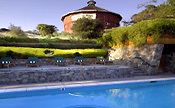 Sonoma on your doorstep
Fountaingrove Inn, Santa Rosa CA
A great jumping off point for wine country and the beauty of Sonoma County – Healdsburg is 20 minutes up the road, and Bodega Bay and the Sonoma Coast State Beach lie to the west. If you want to stay closer to home base, Fountaingrove Inn guests can golf on the award-winning course at Fountaingrove Golf and Athletic Club.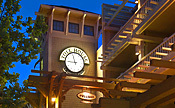 Golden California hill town
Toll House, Los Gatos CA
There are two ways to experience Toll House. One is to spend your nights roasting marshmallows over the fire under fairy lights on the terrace, or trying the amazing local wines in the golden-hued Three Degrees Restaurant and Bar, and your days inventing the future in Silicon Valley. The other is to give yourself over to the sun-drenched beauty of Los Gatos – one of California's best little hillside communities, anchored by a high street lined with California-meets-the-Left-Bank boutiques, an old fashioned movie theatre, sushi joints, and more than one great patisserie.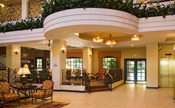 Visiting Google HQ … or Psycho Mouse?
The Plaza Suites, Santa Clara CA
The central Silicon Valley location means quick access to big-name tech companies, and the thrills of the Drop Tower Scream Zone and Psycho Mouse at California's Great America theme park are just two miles away. The Plaza Suites' free wireless, cocktails at five, and a sumptuous, complimentary breakfast sweeten the deal.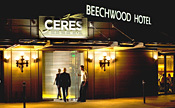 Old-world architecture, and a head for business
Beechwood Hotel, Worcester MA
You'll find everything you need for a smooth business stay, but it's the architectural elements at the Beechwood Hotel – stained glass from the late 1800s, a chapel with a vaulted ceiling – that add beauty and interest. A chic eatery with curved glass walls is alive with contemporary energy.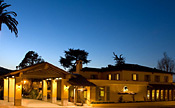 Bouganvilia and sea air
Casa Munras Hotel & Spa, Monterey CA
Verandas with white railings, hot pink bouganvillia growing up the walls, and torch-lit terraces – Casa Munras gets the culture of mid-coast California just right. The Sano Spa goes native with Cypress and Lemon treatments, and you rest afterwards cocooned in a blanket by a firepit. There's tapas and Monterey County wine at Estéban restaurant, and all of the Monterrey Peninsula to explore: 17-mile drive, The Monterey Bay Aquarium, Fisherman's Wharf, and Cannery Row.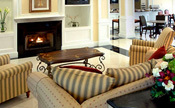 Stellar service, and Zagat-rated Italian
The Wilshire Grand Hotel, West Orange NJ
30 minutes from Manhattan, The Wilshire Grand Hotel offers top-notch business services, diversions like a putting green and an outdoor grill, and a Zagat-rated Italian Restaurant. Stellar service is the cherry on the cupcake – the manager hosts wine and cheese receptions in the lobby, and there's always a plate of house-made cookies on offer.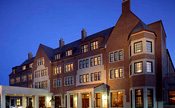 High tea and chintz - and Midwest friendly
Royal Park Hotel, Rochester MI
Cherrywood-paneled libraries, chintz drawing rooms, and a glass conservatory designed in Europe give the Royal Park Hotel the feel of an English country manor, but the friendly staff makes sure the atmosphere is anything but stuffy. Don't miss the Royalty Tea – you start with champagne and hit nirvana some time around the arrival of the clotted cream.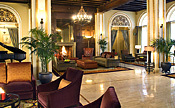 A grand hotel in tech mecca
Sainte Claire
Surrounded by all things tech, the Sainte Claire is a piece of San José's surprisingly glamorous history. The 1926 stone and brick building with arched iron porticoes and hand carved ceilings was the home away from home for the likes of Garland & Gable, Roosevelt & Kennedy. You're fully wired of course, but where else in Silicon Valley can you sink into purple velvet armchairs, have your highballs under 40 foot ceilings in the Palm Room, and get an eyeful of white baby-grand pianos?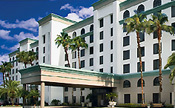 Calm and quiet in theme park Orlando
Buena Vista Suites, Orlando FL
In the thick of Orlando's theme park fun – Walt Disney World® is just 1.5 miles away – the generous rooms at Buena Vista Suites let you recharge between fun-packed days. The full, complimentary breakfast means you don't have to rush out in the morning – and might help you beat the theme park crowds.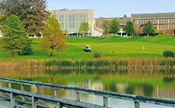 Country pleasures less than an hour from Manhattan
Doral Arrowwood, Ryebrook NY
Popular for business gatherings, Doral Arrowwood's park-like setting also lures urbanites looking for relaxation. Wind down on the fine golf course, or enjoy the indoor and outdoor pools, massage services and a fire-lit pub with pool tables and darts.
Want to keep traveling? Take a little vacation and explore hotels, from the iconic The Lenox Hotel in Boston to the more in than the in-crowd Sunset Marquis in West Hollywood.