~ Northwest art, roaring fires, free gourmet ice cream—the feel of a private country house ~
Plenty of room to relax
The Great Room at Cedarbrook Lodge is alive with a crackling fire in a two-story fireplace and, off to the side, a lounge with a billiards table. Communal living rooms in each of the two buildings are stocked with yogurt, chocolate, DVDs, books on the Italian Renaissance, and two freezer drawers full of gourmet ice cream for snacking – all complimentary.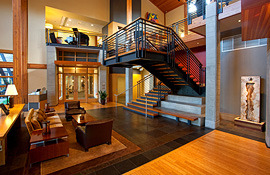 Original Northwest art is on display throughout the buildings, and you can enjoy regional cuisine and leafy views from floor-to-ceiling windows in Copperleaf Restaurant and Bar.
Location
Cedarbrook Lodge is less than five minutes from Sea-Tac International Airport, and twenty minutes from downtown Seattle. Woodinville's wineries are another thirty minutes north of Seattle.
18525 36th Avenue S, Seattle WA 98188
Cedarbrook Lodge
http://www.cedarbrooklodge.com/
cedarbrooklodge.com