~ Prime theater district location, rich history, and the best sandwich in town ~
Star of the Theater District
The show begins as soon as you step into the lobby: Soaring, coffered ceilings, Palladian-style windows, Botticino marble floors… The Brown Hotel is nothing if not a performer. Built by a wealthy Louisville businessman in 1923, this 16-story marvel of English Renaissance architecture has long been a fixture of the city's Theater District.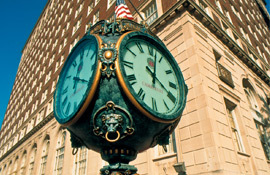 Guests will find themselves within blocks of the area's prime attractions (Palace Theater, Brown Theater, Fourth Street Live) and mere steps from two acclaimed Louisville eateries: the hotel's own The English Grill and J. Graham's Cafe, home of the legendary "Hot Brown" sandwich.
Location
The Brown Hotel is a five-minute drive from Louisville International Airport and—listen up Derby fans—just three miles from the Churchill Downs racetrack.
335 West Broadway, Louisville KY 40202
The Brown Hotel
http://www.brownhotel.com/
www.brownhotel.com