~ Cutting-edge technology & South Plains style near Texas Tech ~
Upscale oasis in West Texas plains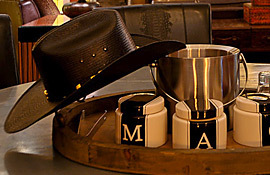 This attractive 15-story hotel opened in late 2009, and the new-car smell has yet to dissipate. Set amid the shops and restaurants that surround the Texas Tech campus, the Overton's location is ideal for visitors to the university. Cutting-edge technology and 20,000 square feet of meeting and ballroom space make the hotel's conference center popular for Texas-size business gatherings and weddings.
Guests don't have to be on business or Red Raiders football fans to enjoy the Western artwork, the outdoor pool and whirlpool tub and The Pecan Grill's traditional Texas specialties.
Location
Within 10 minutes of Lubbock Preston Smith International Airport, and a brief stroll away from Texas Tech University.
2322 Mac Davis Lane, Lubbock TX 79401
Overton Hotel & Conference Center
http://www.overtonhotel.com
overtonhotel.com