~ Gold strikes, stagecoaches, Clark Gable & mineral springs: over 136 years of Rocky Mountain history ~
Romantic and elegant—with a hint of the Wild West
Older than the state of Colorado itself, The Cliff House was a stagecoach stop before becoming a favorite of the glamour set. Luminaries of the early part of the century like Ferdinand, Crown Prince of Austria and J. Paul Getty enjoyed concerts on the lawn and an evening stroll across the street for a glass of water from the mineral springs before bed.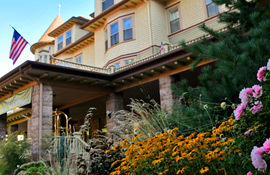 Anchored by a fine-dining restaurant with a charismatic chef, the modern-day Cliff House is both drop-dead elegant and Colorado casual. The turrets and verandas make a fine backdrop if you want to channel a little Clark Gable (once an habituée), but relaxing in jeans, even in the fine-dining room, is encouraged. Cowboy hat optional.
Location
In Manitou Springs, a 15-minute drive from Colorado Springs towards the Pike National Forest.
306 Canon Avenue, Manitou Springs CO 80829
The Cliff House at Pikes Peak
http://www.thecliffhouse.com/
thecliffhouse.com