~ Cocktails from the past, flashy art deco décor, and a relaxed, unpretentious vibe ~
Back to the Future
When this property changed hands in 1995, no one was sure just what, exactly, its faded, over-carpeted floors were hiding. Fast forward ten years and $10 million of renovations, et voilà: Today's Ambassador Hotel is as glam as the day it opened in 1928.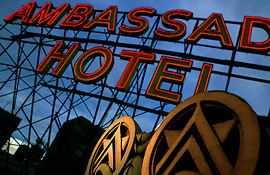 Original Art Deco elements have been restored (terrazzo floors, polished nickel light fixtures) and subtle, contemporary touches added (sumptuous linens, Wi-Fi throughout). The look is edgy, but thanks to the friendly staffers, the ambiance is anything but.
Location
The Ambassador Hotel sits on the western edge of downtown Milwaukee, near Marquette University. While the Historic Pabst Mansion (of PBR fame) is within walking distance, most Milwaukee attractions are a complimentary shuttle ride away.
2308 W Wisconsin Avenue, Milwaukee WI 53233
Ambassador Hotel
http://www.ambassadormilwaukee.com/
ambassadormilwaukee.com