~ An intimate, contemporary resort with Old Florida warmth ~
Beauty on the beach
White umbrellas shading white-cushioned loungers on white sand: this is an idyllic Florida resort with an intimate feel. The beach is in a quiet residential area and offers more privacy than most Gulf Coast sands. Columns, marble floors, tufted banquettes, and a touch of wicker pay tribute to the graces of Old Florida, and the friendly staff contribute to the relaxed, beach-front atmosphere.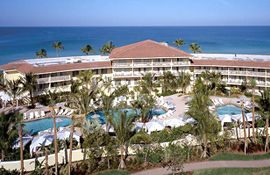 Nearby Naples has a historic old town with galleries, shops, and restaurants, but you could happily spend every night on the candlelit terrace of LaPlaya's award-winning Baleen restaurant, dining under the stars.
Location
LaPlaya Beach & Golf Resort is on a stretch of white-sand beach in Naples, Florida, between the Gulf of Mexico and Vanderbilt Bay.
9891 Gulf Shore Drive, Naples FL 34108
LaPlaya Beach & Golf Resort
http://www.laplayaresort.com
laplayaresort.com