~ Hip, eclectic design with stunning rooftop views ~
Comfort and Convenience in Manhattan
Affinia Shelburne, located in Murray Hill – one of the coolest and most convenient neighborhoods in Manhattan – is ready to dazzle one and all, be they visitors from out of town or colleagues from downtown. And it's part of celebrity history: among other tales, rumor has it Fred Astaire was fond of a rooftop round of miniature golf, on what's now the site of bar Rare View.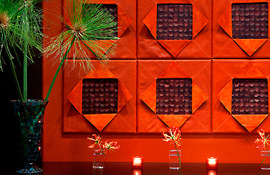 Affinia Shelburne understands the art of personalized service: treats ranging from an acoustic guitar to cupcakes can be waiting for you on your bed when you arrive. SPAffiniaSM brings massage therapies, facials, and hand and foot treatments right to your room.
Location
A stay on Murray Hill puts you steps from some of Manhattan's best museums, restaurants, and attractions. And you're just blocks from Grand Central Station.
303 Lexington Avenue, New York NY 10016
Affinia Shelburne
http://www.affinia.com/stash-shelburne
affinia.com/stash-shelburne