~ Nautical themes, excellent seafood, and sunsets, sailboats, and sea lions outside your window ~
Sea views and SoCal beaches
Sea lions sunning themselves and chatting on the piers of neighboring King Harbor make for all-day entertainment. In the lounge, huge windows with white drapes and white panes frame the Pacific with views of the sunset and sailboats coming home.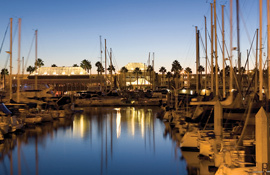 Baleen Los Angeles' terrace overlooks the active marina. When nights turn cool, opt for the dining room, with its fireplace and warm gold and dark brown décor. The seafood selection is outstanding, and there's a steakhouse-style option to choose your meat or fish, toppings (foie gras, lump crab), sauces, and sides separately.
Location
The Portofino Hotel and Marina is next to the surf and sun culture of Hermosa Beach and Manhattan Beach, and within easy driving distance to Disneyland, Universal Studios, and the Queen Mary.
260 Portofino Way, Redondo Beach CA 90277
The Portofino Hotel & Marina
http://www.hotelportofino.com
hotelportofino.com