~ Wood-paneled libraries, chintz drawing rooms & a European-built glass conservatory ~
Plush manor just outside the big city
The stately décor of the Royal Park recalls an English country manor, but the staff makes sure the atmosphere is Midwest-style friendly. Guests are treated to morning coffee in the cherrywood-paneled library, and in the afternoons, English tea with cakes, scones, and clotted cream. In between, take time off for bocce on the lawn.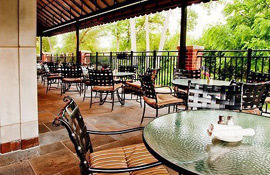 Rooms for business meetings or events are anything but standard: think glass conservatories and South American makore wood details.
Location
The Royal Park Hotel is minutes from suburban Detroit's corporate offices, hospitals, and entertainment and sports venues.The casinos and hip urban neighborhoods of downtown Detroit are 30 minutes away.
600 East University Drive, Rochester MI 48307
Royal Park Hotel
http://www.royalparkhotel.net
royalparkhotel.net