~ Nineteenth-century building with period art, antiques, and photographs at every turn ~
Teddy Roosevelt recruited the Rough Riders here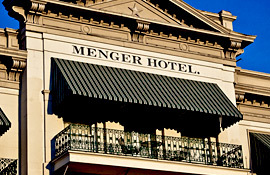 Sarah Bernhardt and Mae West were a century too early to indulge in the San Antonio Scrub and Rub at the Alamo Plaza Spa, but they surely entertained admirers in the stunning, three-story lobby during their stays. Teddy Roosevelt left a lasting legacy in the atmospheric bar, and countless other dignitaries and stars (Babe Ruth, Oscar Wilde, General Dwight D. Eisenhower, Governor William (Bill) Clinton) have graced the hallways of this 1859 hotel.
It's not all about history, however: many a guest has sought respite from the Texas heat with a Menger Mango Ice Cream on the deck of the large, heated outdoor pool.
Location
The Menger Hotel sits across the street the historic Alamo, a block from the San Antonio River Walk, and about seven miles from San Antonio International Airport.
204 Alamo Plaza, San Antonio TX 78205
Menger Hotel
http://mengerhotel.com/
mengerhotel.com