~ A bit of Olde English style in San Francisco ~
European-style city boutique
The Union Jack waves cheerfully over this intimate, British-themed hotel in an ideal spot for exploring San Francisco's Union Square and environs (the cable car stops 1 block away). Upscale shopping from Barneys to Neiman Marcus and the Curran and Geary Theatres are strolling distance.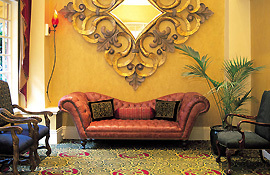 Winston's Bar and Lounge is a great end-of-day stop for a glass of wine or beer and a chat with the friendly bartender. The hotel is known for attentive, personal service and insider tips on restaurants and cultural events.
Location
The King George Hotel is 1 block off of Union Square, steps from Union Square's shopping and dining. The cable car line is 1 block away on Powell Street.
334 Mason Street, San Francisco CA 94102
King George Hotel
http://www.greystonehotels.com/kinggeorge/index.php
greystonehotels.com/kinggeorge