~ Built over the jade green waters of Elliott Bay ~
Elegant, Northwest lodge on a downtown pier
Not long ago you could fish from your room here, as the hotel is built literally on pilings over Elliott Bay. Deep green waves chop outside the lobby windows, and green and white ferries slide across the bay, but all is warmth and understated Northwest elegance inside.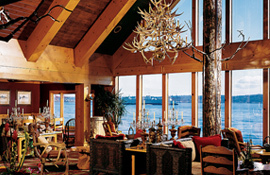 Ebony and garnet armchairs in the lounge are arranged in secluded clusters around fireplaces or facing floor-to-ceiling, pine-beam framed windows looking out onto the water and the Olympic Mountains.
Location
The hotel is on the waterfront, in Seattle's downtown, and a short walk from Pike Place Market and Belltown.
2411 Alaskan Way, Seattle WA 98121
Edgewater Hotel
http://www.edgewaterhotel.com/
edgewaterhotel.com