~ Roaring fires & a tranquil spa in the highlands ~
Wilderness retreat meets resort-style pampering
Tucked into the forested Mount Hood wilderness, The Resort at The Mountain has fireplaces to warm you in the winter and acres of green space to explore in the summer. The golf course is so quiet, all you hear is the Salmon River running alongside. Visit the newly renovated spa and treat yourself to a Salmon River rock massage or a purifying body polish with extracts of native Mount Hood plants.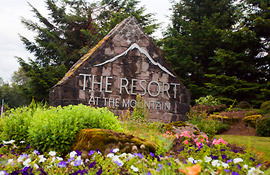 Skiing is just a few minutes up Highway 26, and a little farther afield you'll find micro-breweries, wineries, galleries, and the spectacular waterfalls of the Columbia Gorge.
Location
The Resort at The Mountain is in Welches on Mount Hood, about an hour's drive from downtown Portland and Portland International Airport. Mount Hood's ski areas are minutes up the road, and you can drive around the back of the mountain to Hood River and the Columbia Gorge.
68010 E Fairway Avenue, Welches (Mt. Hood) OR 97067
The Resort at The Mountain
http://www.theresort.com/
theresort.com