~ High ceilings, antique stained glass, and a chic, modern eatery ~
Old-world architectural flourishes meet business smarts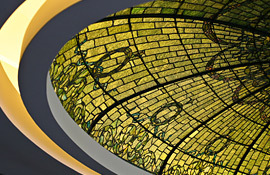 The Beechwood offers everything you'd need for a smooth business stay: a business center, an executive floor, and proximity to Worcester's corporate offices. But it's the architectural and design elements – graceful stained glass from the late 1800s, an antique carousel horse, a chapel with a vaulted ceiling – that add beauty and interest to your travels.
Be sure to sample the hotel's own Ceres Bistro. The emphasis is on seasonal New England ingredients – try local favorites like the Chesapeake Crab Cake, or the signature Pan Seared Breast of Mallard Duck.
Location
The Beechwood Hotel is in Worcester, Massachusetts, minutes from the downtown business district and central to the city's theatres, universities and convention venues.
363 Plantation Street, Worcester MA 01605
Beechwood Hotel
http://www.beechwoodhotel.com/
beechwoodhotel.com