In their words:
"Historic Charleston's favorite luxury inn"
- HarbourView Inn
What it's like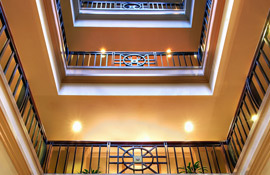 Original artwork and four-poster beds are the norm at this modestly-sized inn. Rooms are meticulously furnished with paintings, antiques, and handcrafted wood furnishings, and some have private balconies and working fireplaces. From the rooftop terrace, guests can watch sunsets over Charleston Harbor and Fort Sumter.
Independent Spirit
Unpretentious Southern hospitality
Small touches
The hotel's Historic Wing features rooms with 14-foot ceilings and an original brick wall from the 1830s.
Eat and drink
Guests are treated to continental breakfast in the morning, wine and cheese in the afternoon, fresh-baked cookies at night, and snacks all day.
And more
HarbourView Inn has more than 500 square feet of meeting and banquet space and welcomes the use of its state-of-the-art audio and visual equipment. Catering is also available.
Awards
No. 50, Top 100 Hotels in the World
Condé Nast Traveler Reader's Choice Awards 2012
Travelers' Choice No. 2 Luxury Hotel in the US
TripAdvisor 2010
Gold List 2007
Condé Nast Traveler, 2007
Press
"With killer harbor views from the rooftop terrace, the hotel sits at the crossroads of seclusion and convenience."
Southernliving.com